School News
Young Voices 2020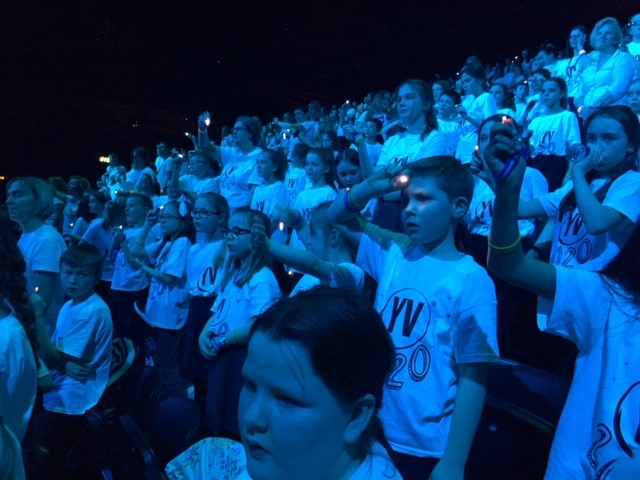 Last Friday 17th January myself, 6 willing staff and 61 members of the KS2 Choir arrived once again at the World Resorts Arena for our 5th consecutive year of attending the Young Voices mass choir experience! There we were joined by almost 6,000 other children from across the country who had eagerly been rehearsing a repertoire of songs to perform with many famous artists, such as Tony Hadley and The Shires. As always, we were incredibly proud of the children who not only behaved brilliantly but were a credit to staff and their parents. I have no doubts they spent the following days (as I did!) singing away to themselves their favourite songs and reminiscing on the lifelong memories that they made. Many thanks must also go to not only the staff and parents but also to the generous PTA who funded the coach for this experience.
Mrs Marsh
'Everyone was so excited when we arrived at Young Voices. It was a very fun experience because we saw a range of celebrities including Ruti from The Voice, The Shires and Tony Hadley. Everyone screamed loudly during the concert and the dancers Urban Strides were so good. They even got the parents on their feet!' Max B and Sophia S Yr 4
'We went on the bus to Young Voices. When we arrived, we had lunch then went into the Arena and started rehearsing. Tony Hadley was there and we loved singing with him. It was an amazing experience.' Megan M and Summer LW Yr 6
"Young Voices was really good fun and the person that hosted it was really kind." Cassie B Yr 6.
"I thought Young Voices was a really good experience and I enjoyed every part of it." Phoebe W Yr 6
'Young voices 2020, we all wore white t-shirts. We had a coach to Birmingham. At 7pm the show started. We all had lights to shine. Urban Striders taught us a dance to perform. It was the best! Pheobe A
'We got to perform with lots of other schools (singing with over 5,000 children)' Amelie W
'It was awesome. You get the chance to sing, cheer and scream with your friends' Ellie S