Clothes that are both smart and practical are best suited to school life. We suggest that children wear the following uniform:
School Uniform
school sweatshirt or cardigan
white or light blue polo shirt
grey or black trousers or shorts
navy, black or grey skirt or pinafore
dark coloured shoes with a low heel
summer dress - blue check.
PE Kit
PE kit (tops and shorts) in keeping with the school's colours and uniform
pupils should not wear trainers all day and must have a change of footwear for outdoor Physical Education lessons
children should have a cloth/soft plastic bag in which to put their PE kit. This must be named and taken home regularly for tops and shorts to be washed
jewellery (other than stud earrings) is not permitted
tracksuits and sports tops are not acceptable as school-wear.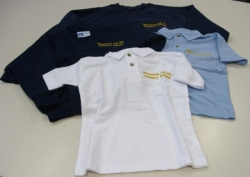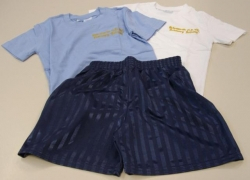 Sweatshirts, polo shirts, PE tshirts, shorts and fleeces bearing the school logo can be purchased directly from Brigade Uniform, please CLICK HERE
We also recommend that all parents join Brigade's Mailing list to receive special offers and promotions. JOIN HERE