Writing
Talk for Writing
Talk for Writing is an interactive and multi-sensory teaching approach which has been developed by the literary specialist Pie Corbett. The process begins by orally rehearsing a high quality model text, supported visually by a text map and physical movements to help the children recall the story or non-fiction piece.
Talk for Writing is powerful because children learn to recite texts in a fun and meaningful way. This is achieved through the imitation of stories using pictures and actions. Children work on a particular story plot each unit, e.g. a warning tale like Little Red Riding Hood where the main character is warned not to do something. The children will also study a particular skill, e.g. how to write a great setting. The children will read lots of stories that have the same plot as their focus so that they get a really good feel for what their story needs to include and how to write it well. We also do a great deal of work around vocabulary and grammar, incorporating this in a fun way through games such as 'Call my bluff'.
Each unit of work begins with a 'cold task'. This is a piece of independent writing which allows your child's teacher to assess previous understanding and knowledge. A 'hot task' is then completed at the end of a unit to show the progress that has taken place.
What the children say about Talk for Writing:
"I like Talk for Writing because it is more exciting."
"You can express yourself."
"You can be creative."
What the teachers say:
"I think it has made an incredible difference for the children in my class. It has brought writing alive.""It is so flexible: the children who struggle more with writing are able to use the model text closely and focus on their own learning objectives."
Kinetic Letters
Kinetic Letters is the handwriting scheme we follow. We think it is a fantastic way of learning letter formation because it allows the children to do so in a multisensory way. Children use 'brave monkey' and 'scared monkey' to help them recognise where to start to form their letters. Alongside this, we teach the children exercises to strengthen their core muscles which results in them being able to stay in the correct sitting position. There is also a song that we learn (to the tune of 'The Hokey Cokey') which reminds children about the way to correctly hold their pencil when writing!
Why do we use Kinetic Letters?
Children learn through movement and multisensory experiences.
It is a physical programme which develops concentration and motor skills.
It is a whole school programme that children can enter at any age.
It helps to develop automaticity so that the brain can concentrate on the content of the writing.
Your children might come home talking about these positions…
Phonics
Foundation Stage and Key Stage One are taught phonic skills through our school's bespoke phonics scheme. Our scheme promotes a strong and systematic emphasis on the teaching of synthetic phonics to aid the teaching and learning of reading and spelling. The phonetically decodable Phonics Bug Reading scheme is used extensively to teach the children to read in the first two years at school. This scheme continues to be followed until the child shows fluency and a deep understanding of what they have read. They can then choose from a wealth of age appropriate books. All children are expected to take their books home each night to share with their parents/carers.
Reading
Book Talk
In KS1 this involves looking at the front cover of a book or a picture within a book and allowing the children to decide what they like and dislike about it. The children are also asked if they have any questions about what they can see. Finally, we make links between the book being looked at and other stories we know.
In KS2 we encourage further thinking by often drawing the children back to the text to find evidence to support what they think. Children are encouraged to 'dig deeper' which we achieve by using PEE (Point, Evidence, Explain).
Comprehension skills
The comprehensions domains are taught within English lessons. When a Talk for Writing unit is not being undertaken, the children study a text.
Creating a love for reading
We have several book clubs for different year groups which take place during lunch times. The clubs involve teachers reading stories to the children, older children reading with the younger, and children bringing along their own books to read. Our book shelves are replenished often so that we are constantly providing our children with new enriching texts to foster their love of reading. We regularly take recommendations from the children for new books and look out for new releases.
5 star books
Across the school, we have a collection of quality reading books taken from Pie Corbett's Literature Spine and other recommended book lists. These books have 5 stars stuck on the spine which helps to guide children when choosing their own reading book. The different coloured stars represent the year group for which that book is appropriate for (from year 2 onwards).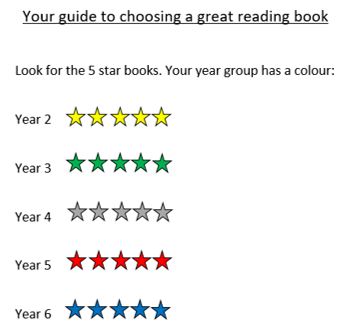 Book of the Month
Keep your eyes peeled for our 'Book of the Month' posters around school. We are hoping this will give parents an idea of which books to buy for their children. The books may be linked to your child's learning or they will be taken from recommended lists for their age group.
There will be a different poster for each phase within our school: Foundation Stage, Year 1/2, Year 3/4 and Year 5/6.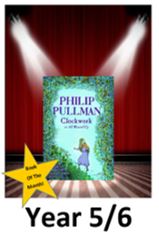 Library links
We are extremely lucky to have the local library on the doorstep of our school. Classes within school visit throughout the year. Our own library opened in 2020.
World Book Day 2021